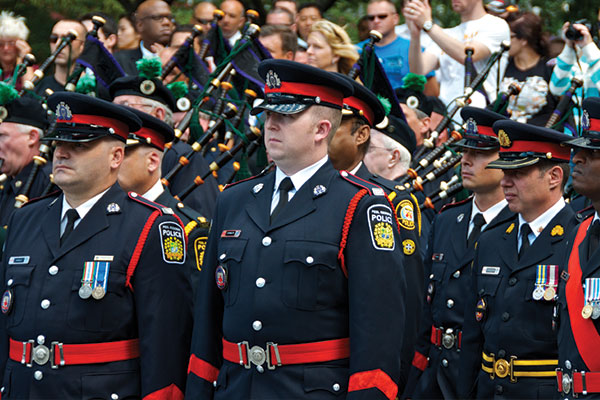 IN SEARCH OF SUSTAINABLE POLICING
I believe it is well worth noting that among those that have an interest in this quest, no one has been at it longer than the country's police leaders themselves. In 2008, the Canadian Association of Chiefs of Police adopted its third resolution since 2004 calling for the active participation of their governing authorities, their member associations, their municipal funders, and governments at the provincial-territorial and federal levels, to join with them in comprehensive dialogue about future options for keeping top quality policing a vibrant and affordable part of Canadian life. An interesting historical perspective on these early deliberations supported that resolution in the form of a multi-media presentation entitled the National Framework for Progressive Policing in Canada, produced in 2008 for the CACP by Ribbet Inc., and written and narrated by Norm Taylor (still available at cacp.ca for members only).
Spurred by the CACP's '08 resolution and similar resolutions at the CAPB and the FCM, the interested parties came together shortly thereafter to form the Coalition for Sustainable Policing in Canada, but it wasn't until 2013 that the first national symposium on the Economics of Policing would occur in Ottawa, hosted by the Government of Canada.
"Policing is an essential public service. It is fundamental to the well-being and vitality of our communities and to the safety of Canadians. Equally important is the need to maintain public confidence through efficient and effective policing. Our Canadian police forces have a long–standing and "well-earned reputation" for being stable, publicly supported, modern and professional. Yet, all would agree that police services across the country are facing unprecedented challenges. As public expectations continue to rise and calls for service increase, police costs are spiraling to the point where the current policing model is no longer sustainable."
From the Introduction to the Report of the House of Commons Standing Committee on Public Safety and National Security May 2014